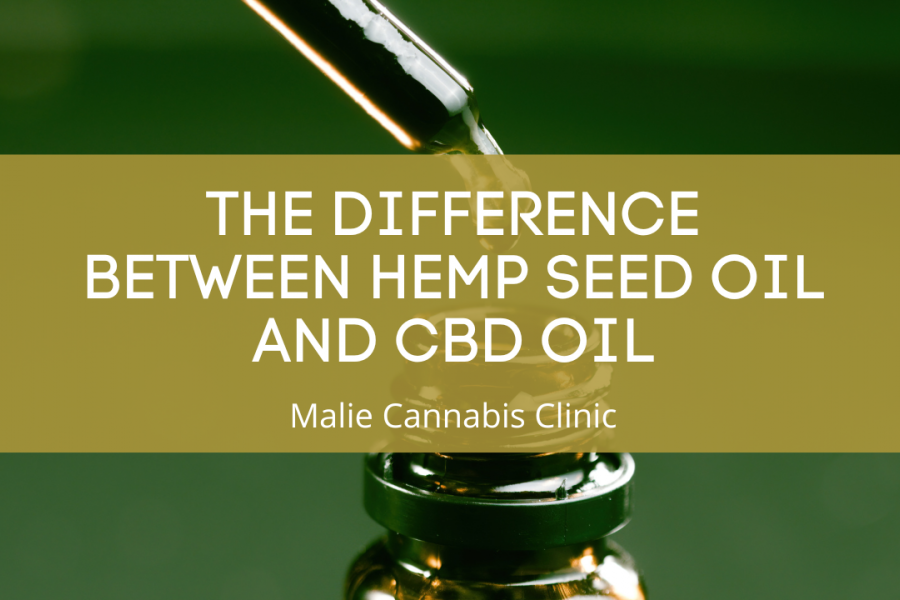 The FDA's move to approve the first cannabidiol-based drug created an increased interest in the benefits of hemp and CBD oils among its vast consumer population.
Though they come from the same plant, hemp seed oil (or simply hemp oil) and CBD oil are different products that are occasionally confused with one another.
It's important that consumers and clinicians make a clear distinction between the two so that they can determine the most beneficial option for their needs.
Hemp Seed Oil
The oil is derived from the seeds of the Cannabis sativa plant. It provides omega-3 fatty acids, omega-6, nutritional antioxidants, vitamin B & D, and gamma-linolenic acid. This does not give its users a high as it lacks the psychoactive elements - tetrahydrocannabinol (THC) and little to no CBD. Due to this, hemp seed oil is not used for recreational purposes.
Uses of Hemp Seed Oil
Given the high nutritional components, hemp seed oil is used as an effective nutritional supplement. Although the evidence is not yet clear, some suggest that hemp oil supports cardiovascular health by improving total cholesterol, high and low-density (HDL and LDL) lipoprotein cholesterol, and triglycerides.
Hemp Seed Oil Benefits and Effects
Adding hemp seed oil to baked/ cooked goods such as cookies, yogurt, cookies, snack bars, and bread provides a rich nutrient source of unsaturated fatty acids and essential amino acids.
Hemp seed oil consumption is effective in constipation relief as well as the improvement of the body's immune system, skin, and gastrointestinal conditions. Additionally, hemp seed oil has been shown to have anti-aging and antioxidant effects on its consumers.
Hemp Seed Oil Manufacture
The oil originates from hemp plant seeds which undergo an cold-pressed oil extraction process in factories.
Hemp Seed Oil Risks and Side Effects
Generally, hemp oil is safe for consumption with very few reports of negative side effects. Some of the side effects reported are digestive issues, which can be attributed to digestive differences. Since this is quite rare, hemp seed oil is generally considered safe and beneficial.
CBD Oil
There are three types of CBD oil on the market. These are full-spectrum CBD oil, broad-spectrum CBD oil, and CBD oil made using CBD isolate.
Full-spectrum CBD oil contains all cannabis plant compounds including low levels of THC.
On the other hand, broad-spectrum CBD oil contains several cannabis plant compounds - excluding THC.
CBD oil made using CBD isolate solely contains CBD.
Check the product's Certificate of Analysis [COA] to verify the product's full list of ingredients. This is the only way to know for sure which CBC product it is.
CBD Oil Uses
This product has been used for medicinal benefits that cater to epilepsy, pain and inflammation, anxiety and depression, addiction management, inflammatory skin conditions, and neurodegenerative conditions. Further research is being undertaken to confirm and ascertain the antiepileptic and potential therapeutic benefits of CBD.
Full-spectrum CBD oil contains THC which elicits psychoactive effects and thus can be used for recreational purposes. The THC component also has the effects of nausea alleviation and vomiting prevention.
How CBD Works
CBD works in several ways, including inhibiting endocannabinoid reuptake, boosting serotonin receptors' activity, and activating g-coupled receptor 55 and potential vanilloid 1, which plays a role in regulating pain.
For the CBD in the full-spectrum CBD oil to elicit psychoactive effects, the THC therein binds to the CB1 receptor in the endocannabinoid system. Full and broad-spectrum CBD oils may also contain beta-caryophyllene which can bind to the CB2 receptors. Cannabinoid receptors' function and effects are still under investigation by researchers.
CBD Benefits and Effects
Here's a breakdown of the different elements of CBD oil and their specific effects:
CBD: Antiepileptic, pain-relieving, anti-inflammatory, anti-anxiety, anti-depressive, and neuroprotective
THC: Anti-nausea, anti-inflammatory, and pain-relieving
Beta-caryophyllene: Anti-anxiety, and pain-relieving effects on consumers
Limonene: Antitumor and antioxidant
Cannabigerol: Neuroprotective and anti-inflammatory
Cannabichromene: Which similarly has pain-relieving
CBD Manufacture, Risks, and Side Effects
CBD oil is extracted from the flowers and leaves of the Cannabis plant using a variety of methods. The most common is CO2 extraction (supercritical carbon dioxide).
Researchers have determined that CBD-derived products are generally safe and use comes with limited side effects.
However, other CBD products that have some side effects. One such example is Epidiolex, a CBD drug for those who struggle with epilepsy. Some reported fatigue, decreased appetite, and diarrhoea.
Users must ensure their CBD-derived products are sourced reliably and responsibly. Consultation with a doctor or qualified cannabis clinician is critical as CBD can interfere with particular medications.
Conclusion
Though they come from the cannabis plant, hemp seed oil is used for its nutritional benefits while CBD is taken for its provocative or medicinal uses. Although there still remains a lot of room for research into the full scope of effects and benefits of each product.
Malie Cannabis Clinic in Hawaii makes the process of getting a Hawaii-registered Medical-Marijuana card very simple. The process starts with an evaluation session, which includes scheduling, submitting a Department of Health application, evaluation by a nurse practitioner or physician, and finalised with the receipt of a Medical-Marijuana card from the Department of Health.